Universities: Data-driven approaches for student-oriented sustainability
With ESG and SDG becoming increasingly important for academic organizations, modern campuses have to juggle multiple challenges: student satisfaction, keeping up with high energy costs, providing well-run facilities for students and stuff, and adhering to effective net-zero strategies to name a few.

Also, there's been a particular focus on health and safety post-pandemic. For a satisfactory return to campuses, universities must strive to create a home away from home for their students, providing them with well-equipped, environmentally optimized spaces that offer optimal comfort for mental wellbeing and productivity.

But remaining competitive among prospective students today also means grasping the real mood within the student community. Since 2018, the movement against climate change has found a foothold in the academic world. It's therefore only natural that universities themselves respond with a sense of environmental accountability, demonstrating proactive approaches to sustainability that involve the whole education community in the process.
Redefining sustainability in light of emerging technologies
Sustainability has been on everyone's lips for some time now, but what does it really entail for universities– how can they produce concrete sustainable development strategies and demonstrate them to the wider public?

First, it's important to address possible confusion around the term, which can have different guiding principles and refer to environmental, economic, as well as social objectives. However, modern institutions are called to recognize the interdependencies among these goals and set complex KPI's to simultaneously achieve them. This requires streamlining of all operations through calculable, certifiable steps, measuring continual improvement across the board. Such strategies are for some time now being realized through ISO management systems, especially ISO 5001 and ISO 14001, measuring energy efficiency along with environmental accountability and social responsibility respectively. Yet, there are reasons why these standards are not so easily attained by organizations as that can entail high costs, endless manhours and disjointed efforts.

This is where sustainable digital transformation of campuses comes into play. In pursuing ISO status, many institutions have turned to energy management platforms, such as in the case of University College Cork, the first university to be ISO 50001 certified. To this end, the adoption of energy management software is crucial, helping organizations ditch long archives, separate files, and the need for staff to go around collecting information from a large number of meters and sensors spread across acres of space.

Smart energy management systems help centralise and automate such operations, performing end-to-end ISO management through:
But how can such systems help approach different ISO goals concertedly, targeting environmental, economic, and social aspects of sustainability, pursuing ISO 50001 and ISO 14001 standards at the same time?

End-to-end monitoring of all activity on campus space helps organisations understand behavioral patterns that are both visible (e.g real-time occupancy rate and behavioral patterns) and invisible (e.g. energy consumption analytics, air quality, sound and light levels, humidity, and the co-dependent metrics of all the above). Cutting-edge combinations of IoT, machine learning, AI and Edge technologies can now learn, predict and automatically resolve all issues of space, producing educated suggestions for bettering your systems, people and assets management, while verifying resultant savings.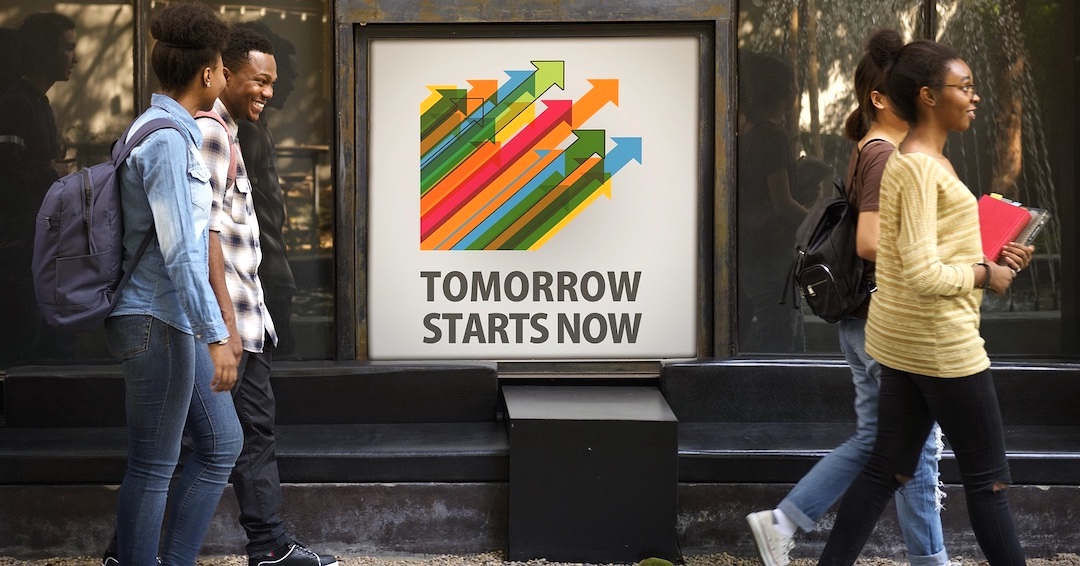 Data-driven approaches to student health and wellbeing
Modern reality is demonstrating more and more how better decisions don't necessarily rely on bigger budget but on the quality of data at hand. Having the means to predicting anomalies, staying on top of preventive maintenance, but also, measuring the effects of operations on a building's occupants promises a higher return on investment, while allowing universities to do more with existing resources, and spend money where it matters.

Student health and well-being can too have a completely digitized approach this way. Poor energy and assets management does not only hinder a university's green status, but it can also badly affect students. Bad ventilation, crammed spaces, humidity and ambiance impair productivity, focus and health.

Sick Building Syndrome (SBS) or Building Related Illness (BRI) refers to the tendency of certain building areas to become hubs of chronic disease due to unfavorable environmental conditions. Recent studies are showing the increasing importance of monitoring SBS alongside energy efficiency strategies, as the symptoms are known to be 15% lower in green buildings on average.

Managing data on environmental factors and energy consumption from a single pane of glass is crucial, not only for uncovering the complex causes of SBS, but also, dynamically configuring consumption, better understanding and predicting a building's energy needs.

The latter vary dramatically from space to space and from season to season. In certain campuses, inappropriate or inadequate lighting has been the leading cause of SBS. In others such as in the case of a study in Niteroi, Rio de Janeiro, Brazil, it was shown to be mechanical ventilation. By opting for mechanical ventilation instead of natural at all times, despite changing indoor/outdoor environmental conditions throughout the day, drops and rises in temperature, and varying humidity levels, buildings could be contributing to the ill health of their occupants while dealing with tons of unnecessary spending.

At the same time, end-to-end automation of campus space can give answers to problems like crammed and overbooked rooms and areas. Poor or infrequent maintenance and cleaning can also be picked up by such systems, alerting the users and even scheduling necessary actions. Anomalies are detected, and systems are dynamically configured for optimal occupant health and energy consumption.

Data-driven approaches also allow for bespoke solutions, setting custom rules for systems operation (e.g when the temperature falls below a certain degree) for automated HVAC operation and efficient consumption while advanced analysis of behavioral patterns fosters an understanding of when your student and staff are at their most productive state.
Sustainable education
Smart technology is beginning to reflect the understanding that unless your systems serve to have a real impact on the way teams and organizations operate, success won't be lasting.

Scalable solutions like Yodiwo's are built with a multi-user mindset, design to engage all different departments and present data in an actionable way to each of them. Custom dashboards serve to engage all parties in the university's efforts for greener infrastructure, including the student body. University's can thus showcase their efforts with transparency, while promoting collective understanding and a bottom-up culture of sustainability.

Developments in technology have always both shaped and been shaped by education. Digitization has a unique relationship to academia with our own YodiFEM – Scalable Solutions for Sustainable Facilities being constantly developed alongside latest academic research.

It is no coincidence that the most sustainable universities of Europe are the ones offering the most renowned courses in sustainability and environmental studies. The vision for our technologies is for themselves to become educational tools, turning the very buildings of campuses into hubs of progress and innovation, testaments of education's growing understanding of sustainable development components.

Discuss your campus's digital transformation journey, book a free consultation call with us!