Smart Cities and Giga Campus by Vodafone & Demokritos: Yodiwo on digital transformation and energy management of building infrastructure
On Friday 27 January 2023, Vodafone Business and their partners held a successful event on state-of-the-art Smart City solutions. Elected and local government officials gathered at NCSR (National Center for Scientific Research) "Demokritos" to hear about the Giga Campus project by Vodafone & Demokritos. The event was welcomed by the Deputy Minister of Digital Governance, Mr. Thodoris Livanios, who spoke about the priority of Greece's digital convergence with the EU and the importance of the "Smart Cities" government program which can help Greek municipalities offer significant improvement of the citizens' daily life.
The Giga Campus by Vodafone & Demokritos is the result of the strategic partnership between Vodafone and Demokritos. It is an innovation ecosystem, which aims to support the acceleration of Greece's digital transformation through the Internet of Things (IoT) and 5G, in a Gigabit society and will function as a living laboratory of exponential technologies, by utilizing the most innovative applications of the 4th industrial revolution. Already, 11 IoT applications have been installed at Dimokritos NCSR, with the aim of strengthening the country's businesses in the effort for a more sustainable and digital future.
Yodiwo add to these endeavours with their all-in-one platform for energy management and digitalization of building infrastructure, offering integrated solutions that are easily adaptable to the diverse needs of end users. Yodiwo representatives, COO Dimitris Leonardos and Business Dev & Sales Director Demetrios Papailiou, highlighted the importance of data-driven energy efficiency projects that aim towards deep insight and continual optimization of all processes. Centralized management of all data produced by an organization's systems and activity ensures maximum savings and perfectly streamlined ESG goals.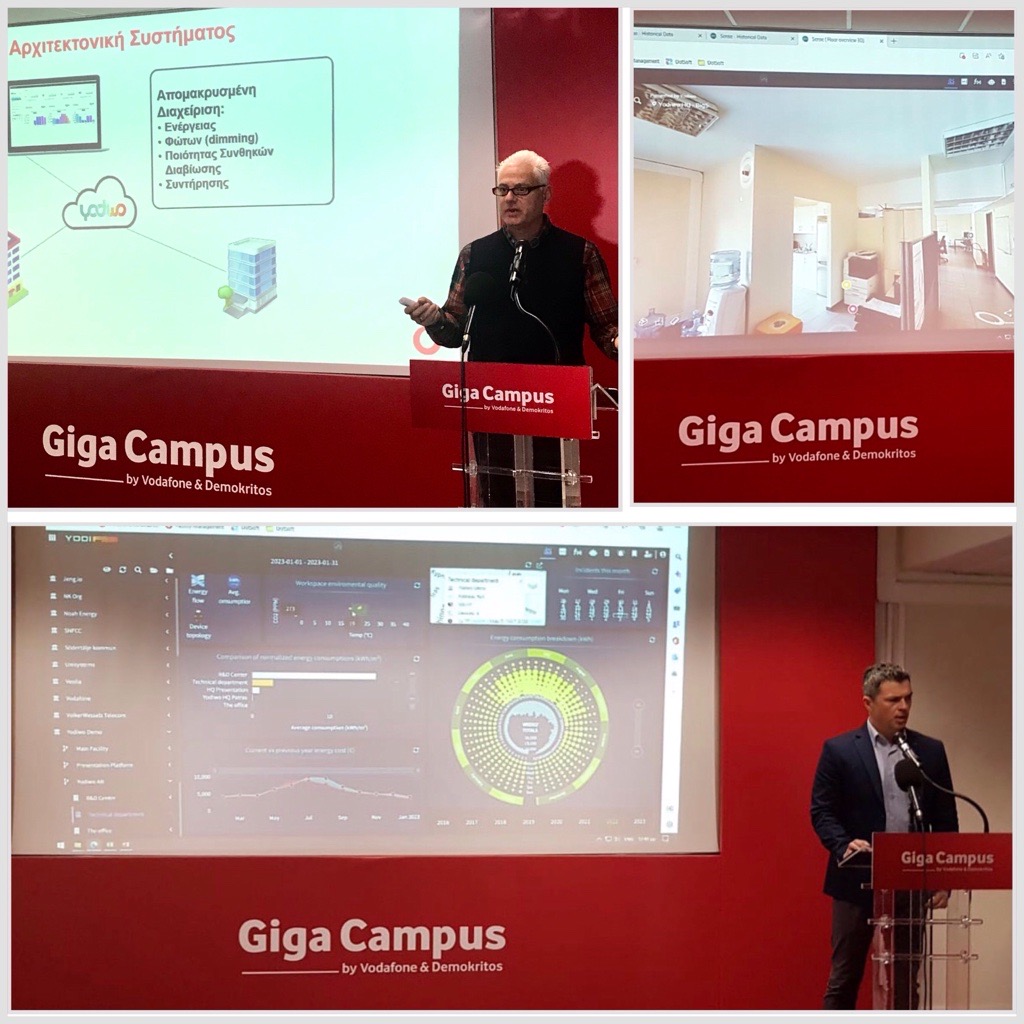 As part of the event, the local authorities present had the opportunity to witness the applications developed by Vodafone Business and their partners at the Giga Campus of Dimokritos and at the Lefkippos Technology Park.
Periklis Terlixidis, Executive Director of AHEDD (Attica Hub for the Economy of Data and Devices) Digital Innovation Hub of NCSR Dimokritos spoke on the importance of the Giga Campus as a large-scale testbed for the Smart Attica European Digital Innovation Hub and for the European EDIH network.
In addition, Vodafone Business's Public Sector Director, Mr. Vangelis Gorilas mentioned Vodafone's potential to offer integrated digital transformation solutions to organizations and businesses, its timely and substantial positioning in the context of the Recovery Fund's digital projects, the NSRF and the European Commission, but also access to international experience and expertise in complex digital projects, through the Vodafone Group's global network.